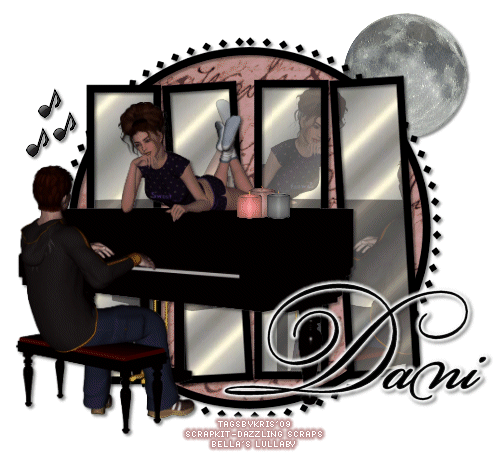 TEMPLATE: #14 by Lacarolita's Designz

SCRAPKIT: Bella's Lullaby Kit by Dani

Musical note: Any musical note will do.

Silver Pattern: HERE

Okay lets begin...

Open your template
CTRL+D to duplicate
Close your original
Delete your copyright information
Delete the side brackets also

Select your bottom layer which is the diamonds around the circle
hue/sat/light to turn it black
hue: 0, sat: 0, lightness: -100

Repeat these steps for the frames for the circle & rectangles

Open paper 2, copy and close
Select the circle layer
Select all, float, defloat
Paste into selection

Open your silver fill and do the same for the rectangles using it

Paste your tube
Duplicate, mirror
Lower opacity to 50%

Select the rectangle layer
Select all, float, defloat, invert
Select the mirrored tube layer
Hit the delete key
Merge this layer down with your rectangle layer

Add drop shadows to all your layers
3, 3, 30, 3, black

Add some elements
Merge visable

Now open your musical note
Resize by 5%
Copy and paste as new layer
Place it on the side, duplicate x2
Move them so they are not on top of each other

If you do not wish to animate them, add text, copyright, merge - flatten and your done.

For animation
Add your text and copyright info
Copy merged
Open animation shop
Paste as new animation
Go back to PSP
Select one of the note layers
press the arrow key either up or down once
Do the same for the other, but make them random like they are dancing
After your done, copy merge, paste after current frame

Repeat this step two more times
When your done save your file.

Thanks for trying my tuturial. I'd love to see your results!